Spinal Decompression Therapy
At Family Chiropractic Wellness Centre, we are continually striving to improve our care for our patients. Dr. Neposlan stays current with all the latest advancements and changes within the chiropractic field, and is, therefore, able to provide the highest level of care for his patients. Recently Dr. Neposlan has updated his equipment to include the latest Kennedy Decompression System with Neural-Flex ™ Technology. This unique system enables Dr. Neposlan to provide advanced treatments in decompression therapy.
What is Spinal Decompression?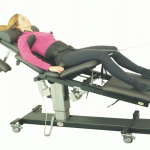 Spinal decompression is a non-surgical treatment, which stretches the spine and works slightly differently to traditional traction methods which have been historically used. Traction methods work by stretching the spine. When this occurs, the muscles can spasm or respond by tightening, closing the spaces between the vertebra. This can oftentimes be painful particularly if the condition is acute. The spinal decompression method works by stretching the spine in ways that trick the muscles within the spine (paraspinal muscles) so they do not tighten or spasm during the process. The computerized decompression tables do this by recording the body's response to the stretching process and adapting the stretching process before muscle tightening occurs. The stretching process increases the spaces between the vertebra, allowing herniated discs to return to their original position. This releases pressure from the spinal nerves responsible for pain. It also allows the blood supply to return to the discs as well as nutrients and encourages the body's natural healing process.The long-term benefits that can be achieved with non-surgical decompression methods make it a more viable option than medication alone, and are safer and more cost-effective than surgical options. Spinal decompression is also approved by the FDA for treating the pain associated with herniated discs.
Why Have Decompression Therapy?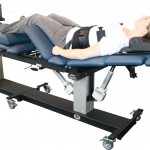 You don't have to live in debilitating pain. Whether you have lower back pain, a pinched nerve, sciatica, neck pain, or a variety of symptoms related to damaged or degenerative discs, as well as syndromes of the lumbar and cervical spine, decompression therapy may be for you.
This gentle, non-surgical therapy can provide lower back pain relief, sciatica pain relief, and is a state-of-the-art therapy for neck pain relief, bulging or degenerative disc disease, and lumbar pain.
The gentle distractive forces of the decompression therapy create a decompression of the spine with unloading due to distraction and proper positioning, to improve blood flow and nutrient exchange to the injured area. You'll experience several cycles of stretch and relaxation, which graduates to a peak over a period of several minutes.
Therapy sessions typically last less than 12 minutes, 1-3 times a week for 1 month, transitioning from passive to active treatments as you respond, with most patients feeling pain relief with as few as 6-10 treatments. Most patients are released from treatment after 8 weeks.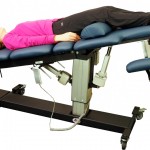 A complete program targeting the function of the stabilization muscles is a vital part of therapy. Exercise and adjunctive therapies such as heat, muscle stimulation, and cold therapy can assist in rehabilitation of these structures. Our goal is to not only help heal the disc, but to also enhance muscular control and support of the back and neck.
Regular home exercise and periodic visits to our office will help in maintaining your spinal health and reduce the probability of reoccurrence. Clinical results of this type of therapy have been effective in over 75% of the patients treated and most patients find long-term relief or effective management of their pain when they complete the entire program of treatments utilizing KDT Spinal Decompression Therapy.
Kennedy Decompression System with Neural-Flex ™ Technology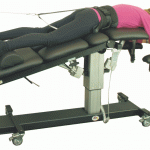 The Kennedy Decompression System with Neural-Flex ™ Technology is the world's leading "complete" cervical, thoracic and lumbar decompression system. KDT Systems are a full generation ahead of competing systems with advanced treatment features not found in any other comparable system.
The fully powered KDT Neural-Flex ™ System features full lower torso flexion to treat the most stubborn disc/encroachment syndromes and provides more effective treatment of spinal stenosis. The KDT Neural Flex ™ System also includes whole body vibration to comfortably relax the patient. Some studies suggest vibration may play a role in healing the disc as well. KDT Neural Flex ™ gravity assisted supine positioning allows you to treat even the most acute patients by allowing a comfortable recumbent posture and gentle gravitational separation of the lumbar segments.
KDT REPEX or hyperextension directional preference positioning allows effective treatment of even the most aggressive posterior disc protrusions and extrusions. Neural-Flex ™ Technology allows innovative inversion/vibration therapy for treatment of Thoracic disc lesions. Studies show that the Thoracic spine can be unloaded with just a few minutes of comfortable inversion. The KDT Neural Flex™ also allows the clinician to treat patients in side posture positions for antalgic patients as well.
---
Family Chiropractic Wellness Centre | (519) 736-5353