Impulse Adjusting Technique
Many times patients will ask me, what is that instrument called that you are using to adjust me.  Well, I like to answer that question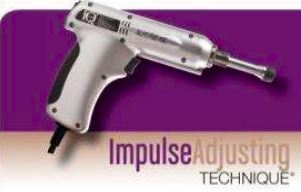 this way.  Just as lasers have replaced scalpels in some surgeries, advanced technology has become available to chiropractors to assist in delivering chiropractic adjustments.  In my practice I have always been a "light force" instrument or table assisted adjustor.  Over the years we have moved from the manual triggered adjusting instrument called the "activator" to what we now currently use called the "Impulse Adjusting Instrument".  Although we may use other "chiropractic tools" during your office visit, this instrument is the primary one that will be used.
This patented and FDA registered device was specifically created to deliver gentle and precise chiropractic adjustments to the joints of the spine and extremities to relieve pain and restore function.  The Impulse Adjusting Instrument is controlled by micro-computer circuitry housed within the device that produces a controlled force that can be reproduced over and over and used to treat different areas of the body.  Impulse adjusting and its accompanying technique have been developed to provide repeatable, controlled treatments to the specific areas you're having trouble with.
Impulse adjustments are truly "high-tech".  There is no popping or cracking with these adjustments, but rather very precise and targeted adjustments designed to specifically care for just the right areas.  Years of research have gone into the development of the Impulse Instruments.  In fact the developers have done extensive research with patients under anesthesia and just prior to spinal surgery to determine exactly how much force should be applied in an adjustment force and at what frequency (multiple thrusts) to achieve maximum change in joint motion and muscle change measured through Electro Myography.  The end result was the development of an instrument that delivers gentle chiropractic adjustments that are safe and effective for patients of all ages.
In addition to Impulse adjusting, flexion distraction technique, spinal decompression technique,  and various other light force instruments and techniques may also be employed.  Some of these will be briefly referenced in your stretches that will be provided.  If you have any questions at any time, please ask.